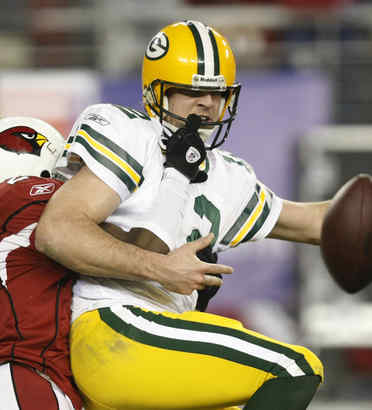 I'm sure no one believes that, but I was much happier going 0-4 in the Wildcard round than I would have been going 1-3. At least I'm consistent and you can pick against me to win money.
Divisional Round Preview (Here goes nothing!):
Arizona (+7) at New Orleans
Two amazing offenses battle in the first matchup of the weekend. The inventor of the
Greatest Show on Turf
travels with his new friends to Nawlins after hanging a 51 on the 2nd best (regular season) defense in the League. The Saints have lost their last three games after winning for the first three MONTHS of the 2009 season. Brees and crew weren't totally playing (or playing at all) in the last two games, but they did lose and honest one to the 'Boys in week 15.
I like the Saints at home in a shootout.

Bottom Line: Saints 63, Cardinals 49


Baltimore (+6.5) at Indianapolis
Indy is 0-3 after a 1st round bye which worries me. Baltimore looked as good as anyone last week, but could not (and didn't have to) get their aerial game going. I like Ray Rice to rack up some yards, but Manning is on a mission this year and I think he'll make the Raven's D act their age.
Bottom Line: Colts 20, Ravens, 17

Dallas (+2.5) at Minnesota
The 'Boys are putting the D in Dallas and overrated Romo is playing his butt off. Felix Jones is hitting homeruns with some regularity and the only club playing better than America's team is the Chargers. I hate Favre almost as much as I hate the Red Sox, so it's impossible for me to pick him to win this game even though he's played like a champ all year. He cannot go a whole season with just one 2-interception game. This will be the game where he falls apart and turns the ball over a few times (at least I'm hoping).
Bottom Line: Cowboys 31, Vikings 14
New York (+7) at San Diego
San Diego has scored over 20 points every week in 2009, the only team to accomplish such a feat. I like PHILLIP RIVERS will have a good game and maybe LT has a little juice left to not look so old for one more week.
Bottom Line, Chargers 24, Jets 9
Going to leave you with this Sudanese classic:
-Jesse